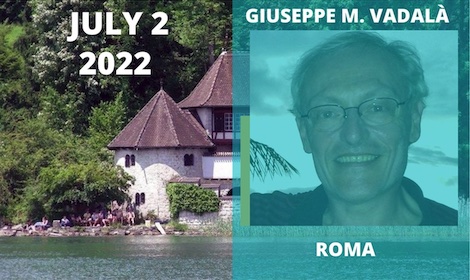 Buddhism and Analytical Psychology - Solving Soul
Seminar Topics:
Introduction to the historical - critical study of Buddhism

Analytical technique and chán (zen) dialogue

How the two paths - psychoanalysis and chán dialogue - could help us in understanding the Ego / Self relationship and transformation.
---
Bio:
Dr. Giuseppe M. Vadalà is a Jungian analyst in Milan and Rome, member of International Association of Analytical Psychology (IAAP). He is Supervisor and Teacher at the Italian Center for Analytical Psychology (CIPA), of which he led the Milan Section of the School of Specialization in Psychotherapy.
He published: Syzygos. Il Doppio, da Compagno Divino a Immagine del Sé. (Syzygos. The Double, from Divine Companion to Image of the Self ) (2003); Nessuno ascolterà Ulisse? Funzioni terapeutiche nella relazione analitica (Will nobody listen to Ulysses?
The therapeutic functions in the analytic relationship) (2007);
Un distillato di "Mysterium Coniunctionis" di C.G. Jung (A distillate of "Mysterium Coniunctionis" by C.G. Jung) (2013); L'illusione necessaria. Sulla costruzione del significato in analisi (The necessary illusion. On the construction of meaning in analysis) (2019).