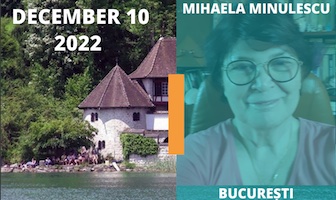 3Visionary Experiences of Individuation and The Self in Turbulent, Transitions Times
(Experiențe vizionare ale Individuării și Sinelui în vremuri tulburi, de tranziție)
Seminar Topics:
1.Analogies in Myth, Legends, and Healing Rituals
2.Spiritual emergency: The Inner Movement towards Reconnection
3.Creative Integration of Meaningful Visions & Dreams.
---
Bio:
Professor Mihaela Minulescu, PhD. is Jungian Psychoanalyst, member of International Association of Analytical Psychology, Society of Psychoanalysis C. G. Jung from Romania, and Romanian Association of Analytical Psychology.
She is currently teaching at Psychology Department of Bucharest University of Political and Administrative Sciences. She published numerous books and articles in Romanian and International Journal and participated in numerous conferences. The last analytical book, Complexes. Creativity or destructivity has been published in 2015, Trei Editorial House.