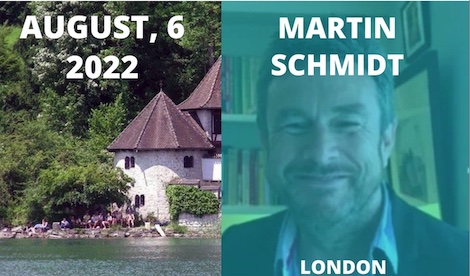 Sexual identities
Seminar Topics:
The centrality of sexuality in the formation of identity

The relationship between biological sex, gender identity and sexual orientation in clinical practice

Working in analysis with diverse sexual orientations and identities
---
Bio:
Martin Schmidt, MBPsS, is a Jungian Training analyst of the Society of Analytical Psychology in London. He has worked as a psychologist and psychotherapist in psychiatric re- habilitation for over 20 years. Until August 2019, he was the Honorary Secretary of the IAAP and its Regional Organizer for Central Europe. He teaches and supervises widely both in the UK and internationally.
For over seven years, he was a visiting supervisor/ lecturer on the IAAP Russian Revival programme in Moscow/St Petersburg and continues to regularly supervise in Europe, Russia and China. He also helped organise and run the IAAP supervision training course in Serbia in 2014. His paper 'Psychic Skin: psychotic defences, borderline process and delusions' (JAP, Feb 2012, Vol 57, no 1) won the Ford- ham prize for best clinical paper in 2012 and was nominated for the Gradiva award by the National Association for the Advancement of Psychoanalysis in New York in 2013.